Aerospace Industry
Inspections for early defect detection, transport status, visualization of inventory
To establish a safe, high-quality, and efficient supply chain for aircraft parts, Nippon Express created a consolidated system for storage and transport of aircraft parts based on AS9120 certification, the aerospace industry's quality management system standard.
The AS9100 series was formulated in the U.S. as a standard to supplement ISO9001, the international standards for quality, with requirements specified by the International Aerospace Quality Group (IAQG) established by European and American aerospace industry companies. As part of the AS9100 series, the AS9120 standard applies specifically to organizations that handle the storage and transport of parts, specifically logistics suppliers, wholesale agents and trading companies.
Customer Issues & Objectives
Company A mainly handles aircraft parts from North America to Japan. They were striving to expand parts procurement routes while establishing an efficient logistics system and suitable inventory management.
Improve cash flow by reducing inventory of high-priced aircraft parts.
Appropriate inventory management of service parts required for regular aircraft operations.
Centrally manage deliveries from many vendors located across North America.
Standardize higher levels of work quality.
Solutions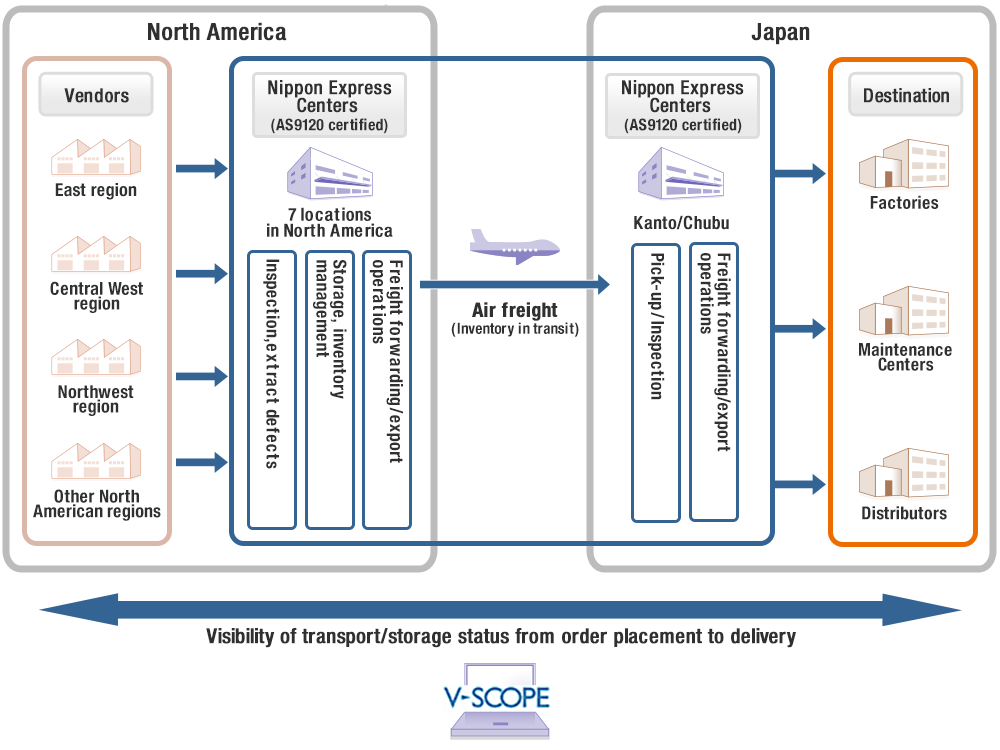 Solution: Key Points
Take advantage of the Nippon Express air transport network across North America to swiftly consolidate parts from suppliers in varied locations.
Speedy removal of defect parts at seven transport management centers (AS9120 certified) located in North America. Simultaneously facilitates warehouse entering and dispatching of parts, inventory management, and export processing to Japan.
Two transport management centers (AS9120 certified) located in Japan handle inspections and deliveries to destinations throughout Japan.
Visibility of transport/storage status from order placement to delivery
Effects & Merits
Through supply chain visibility, gain a grasp of total parts inventory including in-transit parts, reducing unnecessary inventory.
Achieve high-quality supply chain based on centers in North America and Japan attaining AS9120 certification.
Nippon Express coordination of supply chain leads to consolidation of contact windows to handle all inquiries and provide faster responses.
Solution Features
Quality based on AS9120 Certification
Acquisition of AS9120 certification, the quality management system standard for the aerospace industry, enabled Nippon Express to offer services such as high-quality transport and storage on a global level to customers involved in the aerospace industry.
View More
Knowhow for aircraft parts handling

With more than 30 years experience transporting aircraft parts, our expert staff comes with all the transport management, customs clearance, and specialized transport knowledge required to get the job done.

Worldwide Network

Nippon Express serves as a comprehensive logistics consultant, providing one-stop business solutions that connect people and companies beyond national and regional boundaries.
Our Services
Air Freight
Nippon Express runs a global network of over 1000 routes, providing consistent transport from Japan to the world and from the world to Japan. Our state-of-the-art facilities and seamless operations ensure high-speed, high-quality service.
View More
Key Words

AS9120 parts certification
Aircraft parts
Inspection
Procurement
Inventory Management
Finance