Message from the President
I would like to take this opportunity to thank our stakeholders for their continued support and understanding. I would also like to express my deepest sympathy and condolences for those who have lost their lives to the novel coronavirus disease (COVID-19), those who have contracted the disease, and all others impacted by the pandemic.
During the consolidated fiscal year ended March 31, 2020 (FY2019), the Japanese economy was affected by the global economy suffering slowdowns in the Chinese and European economies, the impact that the consumption tax hike had on personal consumption and the spread of COVID-19, which became increasingly serious in the fourth quarter. These factors made future prospects remain uncertain.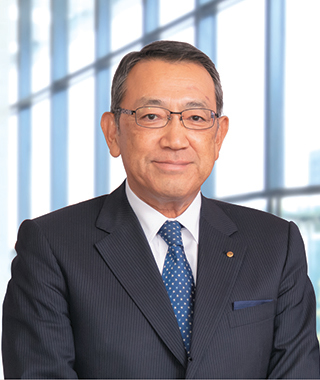 Under these economic conditions, the logistics industry experienced a decline in demand for international freight forwarding due to slowdowns in global trade and manufacturing, which weakened cargo movement, especially for automobile and steel-related cargo. In terms of domestic freight, although there were signs of growth in transportation demand related to labor savings/efficiency investments and rush demand prior to the consumption tax hike, overall cargo movement remained sluggish.
In this business environment, the Nippon Express Group implemented measures stated in the Business Growth Strategy and the Efforts to Implement Our Long-term Vision of the Nippon Express Group Business Plan 2023 ~"Dynamic Growth"~ as our first step toward reforms for achieving our long-term vision.
In FY2020, the entire Nippon Express Group will continue making united efforts to achieve the targets based on the business plan.
[Business growth strategy]
On the axis of customers (industries) in our "growth strategy for core businesses", we will strive to accelerate initiatives in five priority industries (electric and electronics industry, automotive industry, apparel industry, pharmaceutical/medical industry, and semiconductor industry), and build a digital platform centered mainly on pharmaceutical distribution. On the axis of businesses, we will work to expand our forwarding volumes of ocean and air cargo, and we will also work actively to grow the modal shift by using our network goods. On the axis of areas, we will advance business growth in each block through strategies tailored to each area, while working to expand our business in emerging areas like India and Africa.
Regarding the "strategy to enhance domestic businesses in Japan," we will strive to improve the profitability of our Japanese businesses by further advancing the reallocation of human resources generated from our major domestic reorganization, strengthening sales capabilities and governance, and improving productivity.
[Efforts to implement our long-term vision]
In our measures to innovate IT strategy for "reinforcing functions to support challenges," we will strive to expand the use of RPA and others, improve the productivity of sales and business process, and achieve work style reform.
To innovate our R&D strategy, we will work actively to advance automation and labor saving in operations through the practical use of cutting-edge logistics technologies, to enable us to secure a competitive advantage in the logistics industry.
In our efforts for "ESG-oriented business management to realize sustainable development and improve corporate value," in terms of Environment (E), we will accelerate modal shift and expanded sales of joint delivery, with a tight focus on reducing CO2 emissions as a logistics company. In terms of Social (S), we will promote diversity management and strive to reform workstyles through the project to relocate the headquarters building, with an aim to transform into a company where employees can feel satisfied and fulfilled. Finally, in terms of Governance (G), we will strive to further enhance IR activities, and continue to consider the future vision for Group management.
As "a logistics company with a strong presence in the global market," the Nippon Express Group will focus on steadily implementing the aforementioned key strategies, strive for greater growth, and further enhance corporate value, in order to meet the expectations of all stakeholders. We would be grateful for your continued understanding and support.
June 2020
President & CEO
Mitsuru Saito