Nippon Express is the leading provider of moving services in Japan, and its staff at overseas offices provide responsible and responsive services to assist its customers.
Through our worldwide network, we offer a full range of services from small shipments to complete household removals. Our comprehensive international moving services include providing moving cost estimates based on the on-site inspection of the articles to be moved, professional export packing, customs clearance services, shipping of goods by sea and/or air, arranging for insurance, as well as storage and delivery services, including unpacking, reassembling, and setting up furniture as requested. Through our international online information and tracking system, we can always provide accurate information on the whereabouts of your belongings, because we know that your household goods are irreplaceable and an integral part of your lives. This is why our aim is to assure you of the best handling, with the utmost care and attention, and ensure that your possessions arrive at their destination safely and securely.
A High Level of Customer Satisfaction
Our customers are especially appreciative of our One-Stop service, which enables them to draw on a full range of moving services from a single supplier—Nippon Express. We can arrange door-to-door moving by any transport mode customers may choose as well as total household relocation services, and our services are always prompt and accurately performed.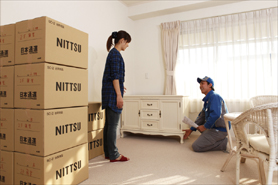 Giving High-Quality Service
We have obtained the ISO 9001 certification, which indicate that you can confidently entrust us with your household goods.
Our quality management system is regularly reviewed by trained internal and external auditors to be sure that our international moving service is highly maintained and continuously improved.
Offering a Wealth of Options
We offer a wide range of moving services, including international sea and air transportation, domestic transportation, and long- or short-term storage of all sizes of articles from small packages to household goods packed in containers. We also provide a range of other services, including relocation consulting, orientation sessions, and searching for homes and schools.
Service by Experienced Staff
Our well-trained staff can provide safe and prompt service because we provide various kinds of training programs that are taught by experienced instructors in our own educational facilities. Our staff are ready to serve you drawing on their in-depth skills and knowledge.