Change and the latest situation in last-mile delivery in Japan
January 14, 2020
Japanese consumers have got much used to receive "Free Delivery" service. However, there is a notable move in a last-mile delivery market in Japan, and it is a turning point for Japanese consumers to change their awareness towards last-mile delivery. What is happening in the Japanese logistics industry on the ground? And what is different in the last-mile delivery in Japan compared to other parts of the world?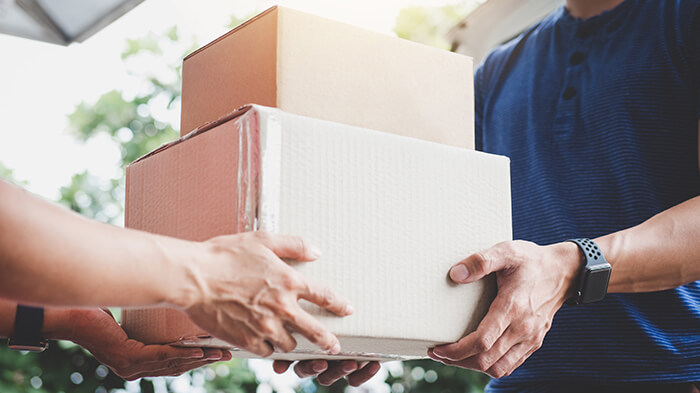 In Japan, the movement in the last-mile delivery is attributable to the change in a social environment. First of all, with the development of e-commerce, the number of courier packages has been increasing for the past 10 years. In addition, the increase in the number of small stores, such as convenience stores and small supermarkets in urban areas, have resulted in creating smaller and more frequent delivery, which reduces delivery efficiency. Besides, active truck drivers are aging, and it is difficult to secure enough number of new drivers; therefore the industry faces labor shortage. In other words, while more packages are to be delivered, the industry cannot secure enough number of drivers; as a result, it is indispensable to improve delivery efficiency.
Figure1:Change in No. of courier packages

Figure2:Change in No. of truck operators

Source: Ministry of Land, Infrastructure, Transport and Tourism(MLIT)
http://www.mlit.go.jp/common/001217517.pdf
http://www.mlit.go.jp/hakusyo/mlit/h30/hakusho/r01/html/n2632000.html
In order to improve delivery efficiency, both delivery companies (logistics operators) and recipients (consumers) have started to take various measures.
Delivery companies have come up with measures to optimize existing resources such as trucks and drivers to deliver packages at destinations, and such measures are classified into a couple of models. First, for instance, some food companies have invested in establishing a logistics company and jointly carry out procurement logistics, trunk line transportation, and last-mile delivery services. This joint company aims to improve logistics efficiency by delivering products from multiple companies to destinations at one time. Consequently, joint delivery also contributes to reduce the number of delivery trucks. Secondly, duty sharing mechanism has been introduced. Shippers would bear some duties of logistics companies, and delivery tariffs are discounted according to duties sharing ratio by shippers. 29 truck delivery companies have formed a union, and the union has adopted a mechanism that duties of delivery companies are shared with shippers so that delivery companies can reduce their workload. Thirdly, online platforms with an innovative technology have emerged and make matching between available drivers with vacant trucks and shippers who want to send packages. Fourth, by deploying small warehouses (city warehouses) located in urban areas, a new logistics network including a small intermediary distribution base to urban areas has been established(*1). Last one is a rather shippers' initiative. Mainly in procurement logistics, "collection logistics" has been introduced. Shippers like manufacturers go around subcontractors with their trucks in a milk run manner and collect products.
1.https://www.cbre.co.jp/ja-jp/research-reports/City-Logistics-Report
Table1: Examples of measures around delivery
measure
service
Delivery
Joint Delivery
Several food companies establish joint ligistics company to deliver products from multiple companies to destinations at one delivery.
Sharing duties with shippers with discount
The duties that are usually provided by delivery companies would be shared with shippers, and shippers can have discount according to the rate of shared duty.
Platform Apps
Make matching between drivers with vacant trucks and shippers to improve operation rate of delivery companies.
City warehouse
Deploy small warehouses in urban areas as a intermediary distribution base.
Collection logistics
At procurement logistics, shippers go around subcontractors with their trucks in a "milk-run" manner.
How about measures applied to recipients? The service to specify receiving time by recipients has been already popular and nowadays more services have been available to make "receiving at one delivery" possible. In Japan, drivers need to have recipients' sign when delivering packages to make delivery status completed, and drivers never leave packages at doors in recipients' absence. Because of this business customs, about 20% of all packages to be delivered would be redelivered later on the same day or another day. Redelivering would keep drivers on duty longer, and more CO2 would be emitted by redelivering trucks. Then, given that receiving at one delivery can contribute to reduce CO2, Ministry of the Environment in Japan has run a campaign called "Cool Choice", in which 178 companies and 55 groups have endorsed(*2).
Besides, "Okihai (leaving packages at doors at recipients' absence)" has caught considerable attention in 2019. While delivery lockers have locks to secure packages, "Okihai" is delivery to where there is no lock to protect packages at recipients' absence. Although leaving packages is not popular for Japanese, this style of delivery is in fact popular and accepted by recipients in the US. Drivers would leave packages at doors in recipients' absence. It seemed that Okihai would need some time to become widespread among Japanese as they tend to worry about robbery. However, Amazon has revealed that they would set "Okihai" as a default means of delivery. Like this, despite negative reaction from the public, Okihai has been gradually introduced. This implies that the Japanese last-mile delivery faces serious inefficiency issue that needs to be improved.
Also, there is a unique approach at order. When purchasing at EC sites, consumers often do not have to receive products in a hurry. At an apparel EC site, for example, there is an option in shipping for consumers to express "I am not in a hurry to receive the products I ordered", and when consumers select this option, there will be a discount in shipping fee. This system enables delivery companies to efficiently consolidate packages as much as possible to deliver at one time and avoid delivering only for one package.
Receiving packages out of home has become popular as a means to receive packages at one delivery. Among measures to receive, delivery lockers have been installed not only apartments but also stations, supermarkets, and other places where people easily access; as a result, more and more people have started to use these lockers. Other than delivery lockers, there are more options to receive packages out of homes, such as receiving at convenience stores and delivery company's offices. Moreover, small delivery lockers for houses and delivery bags with locks, which can have same function as delivery lockers, have drawn more attention these days. In 2017, Panasonic conducted a pilot project of delivery lockers for houses for five months, the redelivery ratio dropped from 49% to 8%, and CO2 emission was also reduced by 465.9kg(*3). This pilot project verified that delivery lockers can reduce redelivery burden and play a useful role in reducing CO2 emission.

2.https://ondankataisaku.env.go.jp/coolchoice/butsuryu/
3.https://news.panasonic.com/jp/press/data/2017/06/jn170608-1/jn170608-1.html
Picture1:Deliver locker at MLIT

Figure3:Cool Choice sticker for enlightenment

Source: Ministry of Land, Infrastructure, Transport and Tourism(MLIT) HP
https://www.mlit.go.jp/page/kanbo01_hy_006504.html
Table2: Examples of measures around pick-up
measure
service
Pick up
Choose a designated time to receive
Choose one of the time ranges provided by companies.
Install Delivery lockers
Lockers are installed at stations, supermarkets, convenience stores, parking, public facilities. Available to receive packages for 24 hours.
Multiple delivery companies share same lockers.
(delivery bags are also available for houses)
Choose a designated place out of home
Choose convenience stores, delivery companies offices etc.
"Okihai"
Deliver packages at a designated place at recipient's address regardless of recipients being at home or not.
Choose non-hurry service
Choose non-hurry service to enable delivery companies to optimaize their delivery.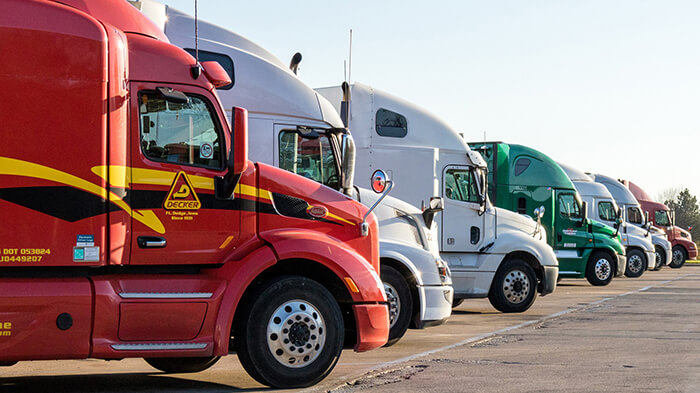 How about the current situation of last-mile delivery overseas? For example in the US, since retailers are trying to reduce lead time to deliver to consumers, same-day delivery service has grown rapidly. To respond to such a change in the market, delivery companies are transforming their logistics networks from building a traditional "hub-and-spokes" type network to a network utilizing local couriers. Local couriers can be arranged by digital platforms or 3PL providers. Major delivery companies have started to invest in startup companies to secure local delivery networks so that they can respond to the needs of same-day delivery accordingly. In addition, digital technology and automation have been applied to their operations. Latest logistics technology such as delivery by robots or drones, inventory replenishment based on forecast analysis, fulfilment center with a cloud system have been in process of adopting in the last-mile delivery related business.
Figure4:Change in same day delivery market in the US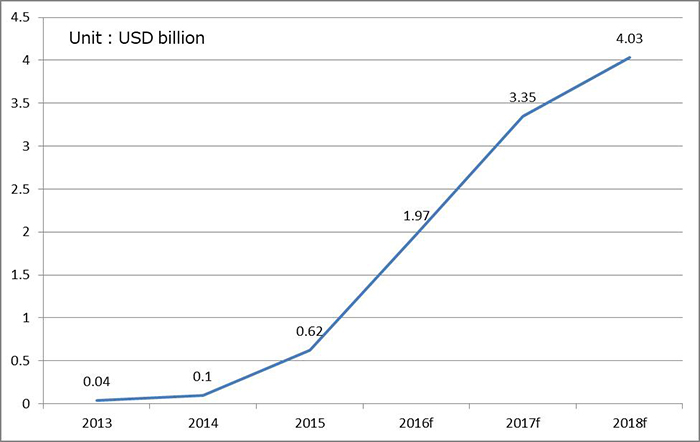 Source: Analysis by AT Kearney
The situation of the last-mile delivery in Japan lags behind the US in introducing the digital means for the better delivery efficiency. The immediate goal in the last-mile delivery industry in Japan is "to complete delivery at one time", and it would be a next step to work on improving efficiency with technological innovation. First of all, it would be necessary that Japanese consumers change awareness towards logistics and delivery, then, delivery companies can move to consider how to apply technological innovation for better delivery efficiency.
Reference:
Summary of last-mile delivery
Delivery