Logistics in Poland
December 19, 2019
-- Part 1: an Economy Overview and Road Transport --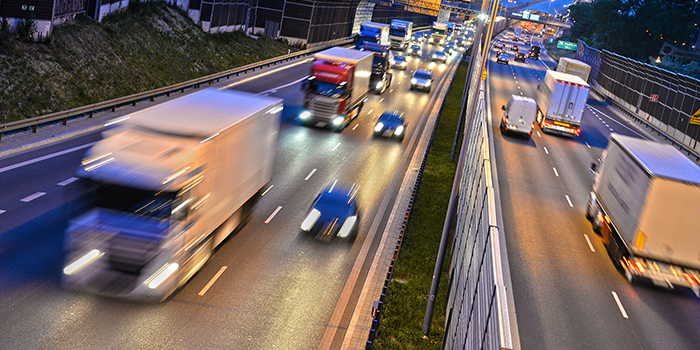 Poland joined the European Union (EU) on 1 May 2004 with nine other countries, including the Czech Republic, the Slovak Republic and Hungary, etc. Within the EU, goods can be moved freely from one EU member state to another. Being the eastern border of the EU, Poland plays a key part as the gateway from non-EU countries, such as China, Russia, Ukraine, Belarus, etc. to the EU territory, especially in railway transport. Near the Belarusian border, the railway terminal of Małaszewice serves as the EU gateway from the China Railway Express and the Siberian railways as a switching point between the wide and standard gauge of the railways. This article is a brief overview of key points of Polish economy and logistics.
Poland enjoys a solid economic growth for over 20 years
The Central and Eastern European Countries (CEECs) are expected to attract more market appeal and logistics demand owing to the EU-Japan EPA, which entered into force on February 1, 2019, and China's One Belt One Road Initiative. CEECs, especially the border countries of the EU including Poland, the Slovak Republic and Hungary play important roles as the gateway from China and other countries to Europe.
Poland became a member of the EU during the fifth expansion of the EU in May 2004. The EU has introduced the single currency "euro" in 1999 and currently has 19 participating countries. As of December 2019, however, Poland has not introduced the euro. Poland has grown as a manufacturing and export base for automobile parts to Germany and other Western Europe.
Becoming the seventh largest economy in the EU, the Polish economy enjoys a continuous and steady growth, with no negative growth since 1992. The growth rate in 2018 was 5.1%, the highest since 2007 (7.0%). As predicted by the International Monetary Fund (IMF), Poland is expected to grow at 4.0% in 2019 and 3.1% in 2020, and to grow steadily at 2% range after 2021.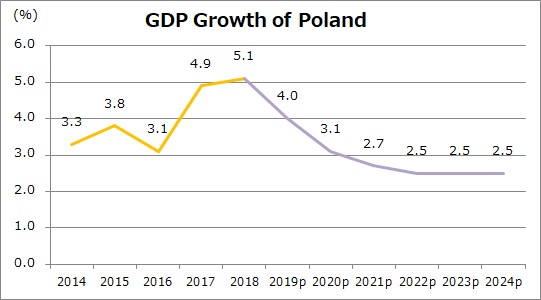 Source: IMF World Economic Outlook Database, October 2019
Poland offers relatively low- cost labour but suffers labour shortage
In 2018, the average monthly salary for the manufacturing industry in Warsaw (Poland) was US $ 917 to 1,173 for workers. It was US $ 1,272 to 2,072 for engineers and US $ 2,053 to 3,231 for middle management. Compared to the neighbouring city, e.g. Düsseldorf (Germany), the average monthly wage in the Polish manufacturing industry is about 20-30% that of Düsseldorf. Because of this relatively inexpensive labour force, it is said that Poland has developed as production and logistics bases for Germany and other Western European countries.
However, wage levels have been on the rise in recent years, with a 5.4% increase in Warsaw in 2017, whereas it increased by 2.5% in Düsseldorf. According to interviews with local companies in Poland, many companies suffer from labour shortage (the unemployment rate was 3.8% in 2018) and are concerned with increasing labour costs in recent years. Therefore companies are considering and some of them are already implementing work mechanisation as the countermeasures of labour shortage and also for productivity improvement. In addition, many of them hire workers from other neighbouring countries such as Ukraine and Slovakia, where the wages are lower than that of Poland.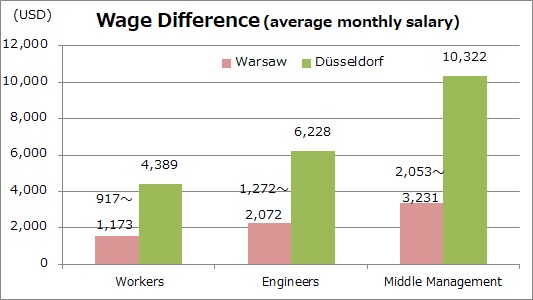 Source: JETRO Comparison of investment costs
More than 80% of goods are carried by road
Poland's total transport volume in 2018 was 2,191.89 million tons, an increase of 6.8% compared to the previous year. By mode of transport, road transport accounted for 85.5% on a ton basis, 11.4% for railway transport, and 2.5% for pipeline transport. Road transport is responsible for the majority of Polish freight transportation.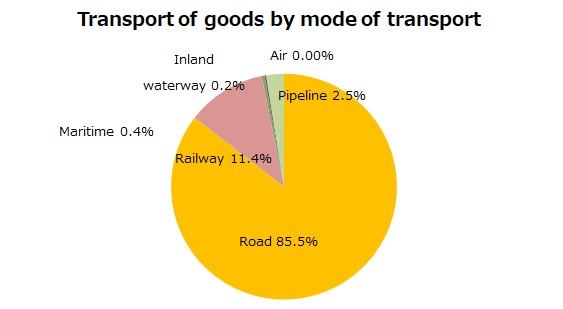 Source: Statistics Poland, Transport - Activity Results in 2018
Not only just for domestic freight transport, Poland is one of the key players in international road freight transport in EU-28. In 2018, Poland's road transport accounted for 22.7% of the EU-28 international road freight transport on a ton basis, indicating that Poland plays a key role in road transport within the EU. Following Poland, the shares of the Netherlands (11.3%), Germany (10.4%), and Spain (7.1%) were high.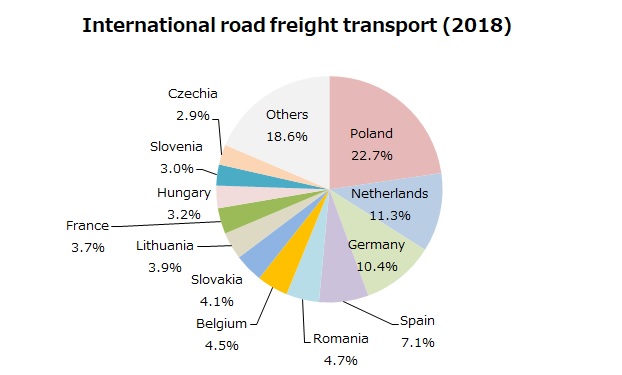 Source: Eurostat (data: road_go_ta_dc)
The amount of road transport was 335.2 billion ton-kilometers in Poland in 2017. By truck axle configuration, Lorries accounts for 23.2 billion ton-kilometers (6.9% of the total), semi-trailers 303.4 billion ton-kilometers (90.5%), and full trailers 8.6 billion ton-kilometers (2.6%). The share of trailers altogether was 93.1%.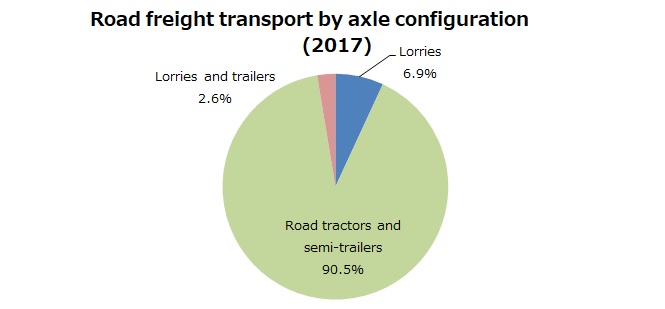 Source: Eurostat (data: road_go_ta_axle)
Since Poland is a member of the TIR (Trans-ports Internationaux Routiers) Convention and the Schengen Agreement, vehicles and drivers are free to move between member countries. When moving from Poland to the Czech Republic, for instance, and vice versa, trucks can enter the country without checking vehicles, cargo, drivers or passengers.
Photos: Lorries and Trailers (Left) and TIR Carnet (Right)
Source: Nittsu Research Institute and Consulting, lnc.
The Central and Eastern European logistics markets spans over multiple countries, combining sea, rail, and land routes. Also customs clearance involved, it is a place for forwarders to play an active role. Poland, which has joined the EU from the former Soviet socialist republics and continues to develop, has become more active with the promotion of China's One Belt One Road Initiative, and the role of forwarders is becoming increasingly important. In the coming article, the overview of railway transport in Poland will be introduced.
Reference: