1. ITEMS SUBJECT TO DUTIES AND TAXES AT DESTINATION
In general, duties and taxes are assigned to all new or unused items.
However, specific procedures differ from destination to destination depending on their respective customs laws.
2. SPECIAL ARRANGEMENT FOR EXPORT
These items require special arrangements to export.
| | |
| --- | --- |
| Antique goods | Special documents required |
| Animals | Special documents required |
| Tax-free goods for export | Customs inspection required |
| Rice (from Japan) | Advanced report to the authorities required |
3. PROHIBITED ITEMS
There are some prohibited items not allowed to be shipped out by law.
A)

Narcotics / Stimulant drug, Smoke absorbers / Equipment, Opium poppy / Cannabis seeds, Poison

B)

Swords, Imitation Swords, Handguns, Imitation Handguns, Model Guns (including airsoft guns), Weapons, Ammunition

C)

Counterfeit and pornographic products (magazines, videotapes, photos, etc.)

D)

Infringing goods such as trademark rights, patent rights and copyrights

E)

Applicable itmes to the Washington Convention (including products such as handbags and belts)

F)

Plants (with soil) and seeds

G)

Fresh food

H)

Money, Passport, Securities, Stamps, Credit cards, Correspondence / Letters, Jewelry, Metals

I)

Spectrometers, Light sources, Hyperspectral cameras, Microscopes, Gyroscopes, Drones (including parts), Modems, Routers

J)

Other items that cannot are substituted

K)

Items not deemed suitable as moving goods by customs
 (e.g. electric kickboards, electric scooters, electric standing motorcycles, vessels (rubber boats, kayaks), etc.)
Also please refer to "Major Dangerous Goods" of the next page.
Dangerous Goods That Can Not Be Transported (common regulation to all countries)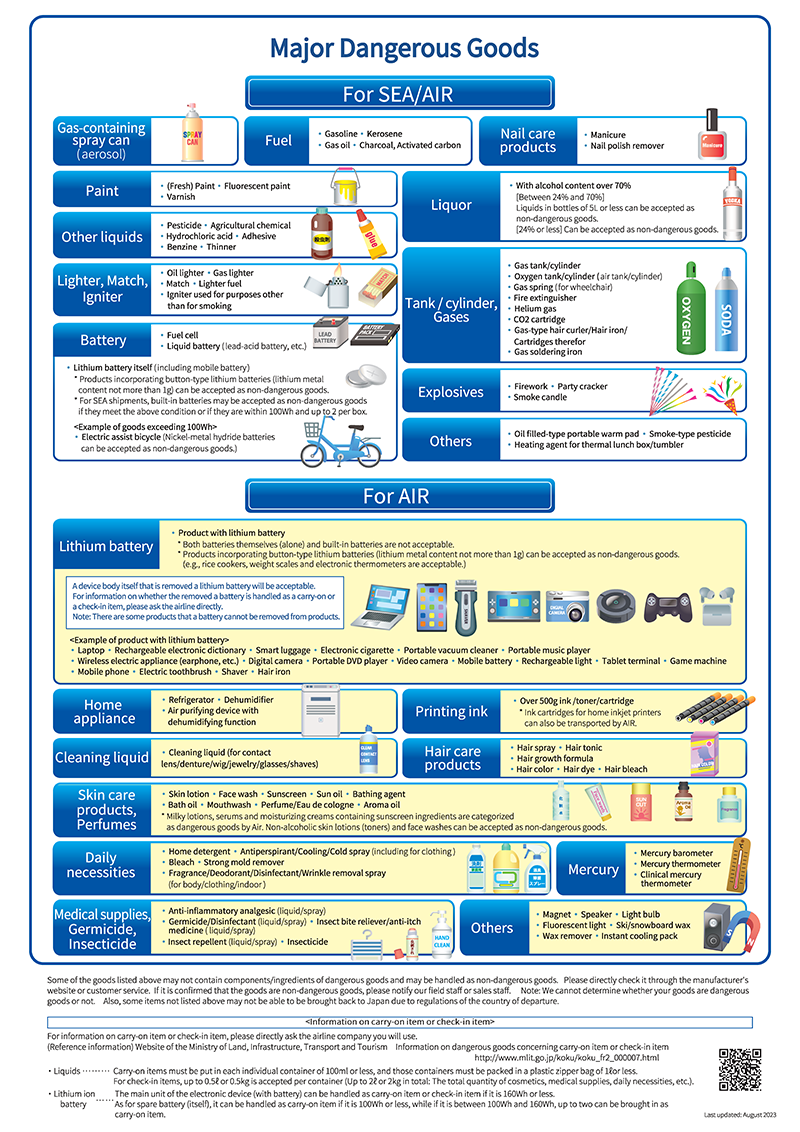 Exporter Confirmation Form (with Dangerous Goods and Expensive Goods confirmation) (Download PDF 2,715KB)

Please make sure that the above dangerous goods are not contained in your luggage before packing. Please sign the checklist and submit it.
4. NOT SUITABLE FOR AIR SHIPMENT
Personal computers, luxury tableware, decorations and for fragile goods are please use sea shipment.