In the case of household moving within the Philippines, we can take care of everything for you.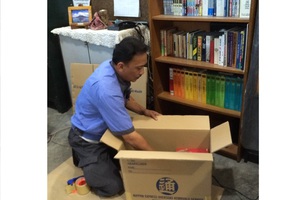 For household moving within the Philippines, Nippon Express takes care of the packing for customers on the day of their move. As household-moving professionals, we provide customers with the kind of support they need to resume post-move life as normal at their new location as quickly as possible.
Moving process
The moving process is the same as that for household moving in Japan. (Even in the case of domestic household moving, a Japanese employee is present.)
Preliminary inspection and estimate (offered free of charge)
Contract conclusion
Advance delivery of packing materials (if requested)
Packing and collection
Delivery and unpacking
*It is necessary for us to contact the condominium or village where you live in advance in order to let them know that there will be household moving.