Moving to Japan
Door-to-door service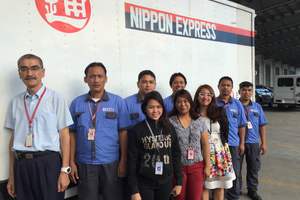 With the Heartliner service, we at Nippon Express provide total coordination for smooth overseas-household moving based on a door-to-door (intermodal transport) system unique to our company, which has bases in cities in countries and regions worldwide. Our household moving—whether it be from Philippines to Japan, from Japan to Philippines, or from Philippines to overseas—is entirely handled by Nippon Express branch offices and agents.
Preliminary inspections and estimates are free of charge, so please do not hesitate to contact Nippon Express.
Relocation of life as-is to location across the sea
In the case of overseas-household moving, it is not an exaggeration to say that your life is relocated as-is to a faraway location across the sea.
For 20 years, we at Nippon Express Philippines have been carrying out our day-to-day operations while always keeping in mind that household moving is an important event that occurs at a turning point in the history of customers.
We not only perform the job of transporting items, but also provide information on living overseas and offer convenient and excellent-value supplementary services. Thus, we provide support from various angles so that customers are able to live overseas with peace of mind.
Information-sharing system for overseas-household moving
In order to enhance service quality in line with the information technology (IT) age, we at Nippon Express share information with our domestic and overseas locations that our customers have provided us regarding household moving. Locations can then check with each other on the state of progress of operations on terminal screens. As a result, we are able to quickly perform tracing (tracking) at both the point of departure and at the point of arrival with both sea freight and air freight. This way we can promptly provide customers with information regarding the transit steps of the valuable goods that they have entrusted to us.
Attendance by Japanese staff members for reassurance
There are a number of household-moving companies in the Philippines, and Nippon Express is the only one that ensures that a Japanese staff member is present.
Japanese quality even in the Philippines
We provide our staff members with thorough education on packing techniques and manners by taking measures such as inviting instructors from Japan, and thus we aim to provide operational quality that is the same as that of Nippon Express in Japan.
Household moving to foreign countries
We at Nippon Express provide support for the household moving of customers by utilizing our unique global network, which includes bases in cities in countries and regions worldwide. While some countries require a visa and work permit for the importing of household-moving baggage, our local bases in various countries understand the latest customs-clearance conditions, so customers can order our household-moving services with peace of mind.
We are also able to arrange various other services. Please do not hesitate to contact us if you would like more detailed information, and please share with us your requests and opinions.