Nippon Express Singapore, the first choice for household moving within Singapore island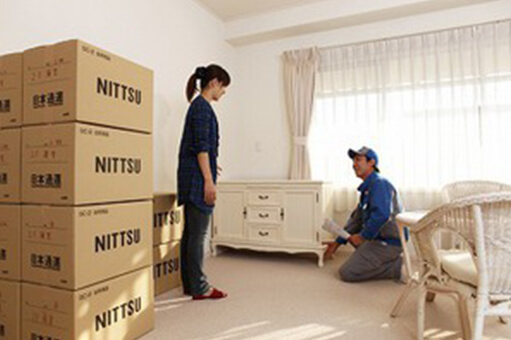 For household moving within the island of Singapore, Nippon Express takes care of the packing for customers on the day of their move. As household-moving professionals, we provide customers with the kind of support they need to resume post-move life as normal at their new location as quickly as possible.
Can I receive cardboard boxes in advance?
If you wish to pack your belongings in advance, we will send you a set of cardboard boxes and packing materials, which are available in the sizes below. Please contact us about this by at least the day before your desired delivery date. If you are not home at the time of delivery, we will leave the items outside your entrance.
Standard cardboard boxes of Nippon Express (main sizes)
| | |
| --- | --- |
| Size (cm) | Intended use |
| S=52×26×41 | Books, albums, CDs, videotapes, etc. |
| M=53×52×41 | Tableware, kitchen utensils, daily necessities, etc. |
| L=80×52×27 | Clothing, etc. |
| 2M=53×52×83 | Toys, etc. |
| MM=106×52×41 | Bedding, etc. |
On the day of household moving, we can bring wardrobe cardboard boxes that clothes can be hung in on hangers as-is. However, if you need them before moving day, please let us know in advance.
Are you able to collect used cardboard boxes and packing materials?
We can collect them from you at a designated date and time if you contact us in advance.
Can you dispose of furniture?
We usually charge a fee for disposing of large-sized unneeded objects such as furniture, but please contact one of our supervisors if you are interested in this service. Please note that we do not handle the disposal of general household garbage.
How should refrigerators be handled?
Please turn off the electric power and start defrosting in the evening of the day before the date of the household moving. Also, please do not turn on the power for half a day after the move, as this may cause the refrigerator the break. Since Singapore is hot, we prepare coolers on the day of household moving.
The management of my condominium told me that I need a deposit.
Our company will take care of submitting a household-moving request to your administrative office (management), related to deposits, reserving operations (booking), and so on, on your behalf. Incidentally, since moving operations are prohibited on Saturdays at some condominiums, this needs to be checked before a decision is made regarding the date of household moving.
Restrictions at condominiums
Some condominiums have strict restrictions regarding household-moving operations for security reasons.
Example)
Weekdays: In principle, operations after 5 p.m. are prohibited.
Saturdays: Operations at any time of day are prohibited.
      Or, operations after 12 p.m. or 1 p.m. are prohibited.
Sundays and national holidays: At all condominiums, operations at any time of day are prohibited.
Are there any items that you do not accept for moving?
We do not accept the following items.
Valuables such as jewelry, precious metals, cash, and securities
Large plants and special plants
General household garbage
Hazardous materials (propane gas, etc.)
Pets
I have items that I would like delivered to locations other than the household-moving destination, such as friends' homes.
We can accommodate this. Please make sure to let us know the names, addresses, and telephone numbers of the delivery receivers in advance (additional fee). Please note that depending on the volume of baggage, it may not be possible to carry out operations regarding some items on the same day as the day of household moving.
Please let me know about your transit insurance.
Our transit insurance provides full coverage. In the unlikely event of an accident that causes damage to goods that we have received from you, in principle repairs are carried out. In the case of items that are in sets or pairs, coverage is provided only for those individual items that have been lost or damaged.
Please note that insurance claims cannot be accepted for the following.
Damage due to an intentional act or gross negligence
Damage due to the natural wastage, inherent defects, or properties of goods
Damage caused by weather
Scrapes, scratches, and peeling paint on vehicles (automobiles, motorcycles, bicycles, etc.)
Loss of tone of musical instruments
Clothing dirt or damage caused by insects
Damage to electrical products that, although without external damage, are no longer usable
Other damage subject to insurance conditions and disclaimers
The ordinary time for notification is within one or two weeks of the move. Complaints after that time period may in some cases prove difficult to process.
Precautions regarding weather
Singapore sometimes has sudden heavy downpours. Thus, there may be cases in which operations need to be put on hold, cases in which operations take more time than expected, and so on. We are sorry to trouble you, but hope for your understanding regarding this matter.
Related information
We have compiled questions that we often receive from customers.