Global Supply Chain Process Management System (v-PROCESS)
Solution For When...
Delay happens in real time,
that require communication.

Adequate tools that are not available
for your business requirements.

E-mail is always full or stuck due to large size documents;
sending/receiving/transferring.
Features
Supply Chain Status Control
Customer is free to choose Mile stone Points, from generating Purchase Orders, all the way through to Delivery.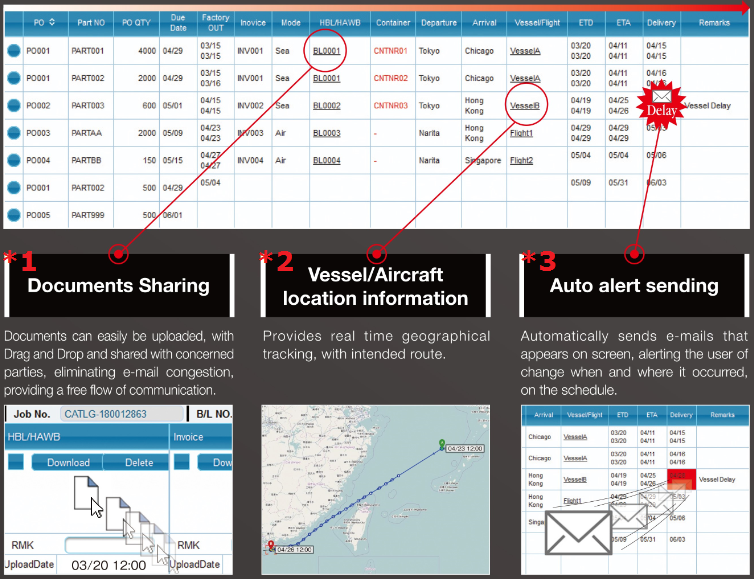 *1 Document Sharing
Documents can easily be uploaded, with Drag and Drop and shared with concerned
parties, eliminating e-mail congestion, providing a free flow of communication.
*2 Vessel/Aircraft location information
Provides real time geographical tracking, with intended route.
*3 Auto alert sending
Automatically sends e-mails that appears on screen, alerting the user of change when
and where it occurred, on the schedule.
Supply Chain Supported by...
Lead Time Master
Scheduled dates can be calculated and applied by Lead Time Master
Supply Chain KPI Functions
Process and analyze data on v-PROCESS
Assign Browsing Restrictions to Supply Chain Partners
Set Browsing restrictions
EDI Linkage
Contains a variety of external interfaces
Variety of Search Keys
arch using management numbers assigned to each company
Tablet Enabled
Use a tablet for Supply Chain Process Inquiry