Environmental and Safety Initiatives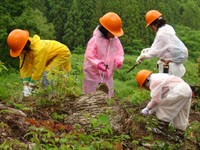 As logistics is a business of a high public nature, the Nippon Express Group covers various areas of social responsibility. As a leading company in the logistics industry, we take the responsibility of protecting the earth's environment very seriously and have revised our "Environmental Charter" to reflect recent trends.
The Nippon Express Group does not consider initiatives for environmental conservation simply as a burden but rather as new business opportunities. In other words, we will be promoting our strategic environmental management as one of the key strategies in the new management plan. Continuously responding to the trust we have gained from society and maintaining safety are essential for the Nippon Express Group whose business activities are carried out by utilizing the public infrastructure.
Environmental Initiatives
The whole of mankind is faced with the huge challenge of providing for future generations without harmingthe global environment. Those of us who have developed society have simultaneously continued to pollute the earth by emitting harmful CO2 gases and other pollutants. We at the Nippon Express Group, as transport professionals, want to help provide for the people of the world through the transport of goods while striving to achieve more energy-efficient "earth-friendly logistics."
Environmental Charter
In April 2010, Nippon Express revised the Environmental Charter, which it first established in May 2001. The new revisions signal a step up from preservation-focused environmental management to strategic environmental management and set goals in correspondence to changes to the contents of environmental initiatives demanded of companies. They also establish environmental regulations regarding specific issues that need to be addressed.
Corporate Compliance
Nippon Express USA, Inc. ("NEU") firmly believes that corporate activities should be predicated upon the principle of good citizenship, whereby a corporation earns the respect of society through its ethical conduct, respect for different cultures, public spirit and sharing and furtherance of community values. NEU also believes that a corporation exists not only as an economic entity designed to pursue profits through fair competition, but also as a social entity which makes contributions to all humanity, as well as its customers and employees.
SmartWay Transportation Partner
Nippon Express is a partner of the US Environmental Protection Agency's SmartWay Program for improving fuel efficiency and reducing greenhouse gases and air pollution from the transportation supply chain industry.  Through this voluntarily program Nippon Express is working to achieve improved fuel efficiency and reduce environmental impacts from freight transport.  Nippon Express uses performance based quantification and reporting tools that benchmark freight operations, energy and environmental efficiency. Nippon Express is committed to corporate social responsibility and sustainable businesses practices, and is working to  reduce its carbon footprint.