Automotive
Nippon Express' Automotive logistics services address the unique challenges faced by today's automotive industry, including complex demand chains, increasing competition, high-service/low-cost requirements.
Our in-plant logistics consulting and services are used by the industry's automotive giants to keep their manufacturing processes operating like the well oiled machines they produce.
Nippon Express also has strategic partnerships and many years of experience with all aspects of the tire industry to provide ROI-driving solutions for services from warehouse and transportation services to a lead logistics provider relationship.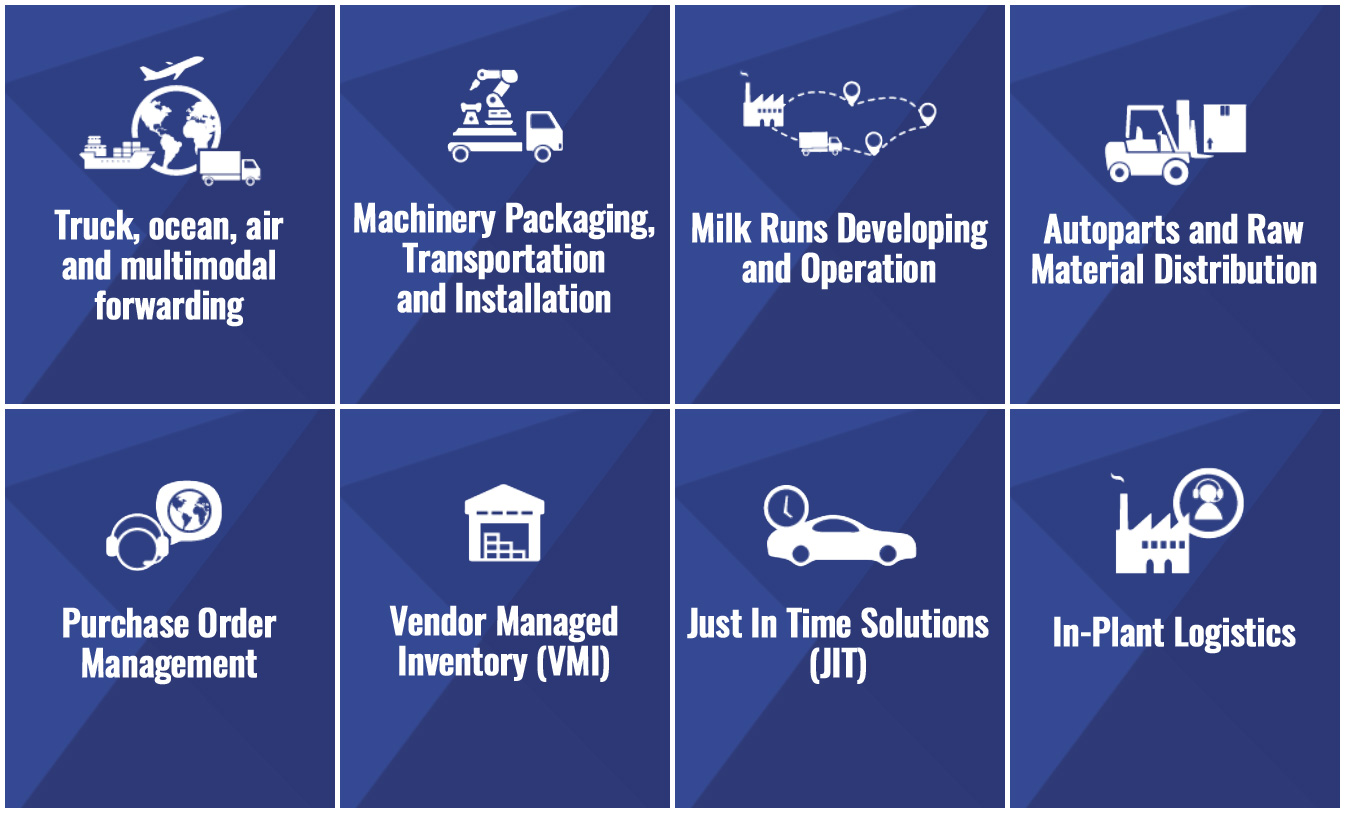 Global sourcing to support your china+1 procurement
Automotive parts supply chain solutions from Asia to USA/Mexico with Mexican Eagle Liner service
R&D parts procurement support, including supplier and purchase order management acting as your overseas agent in USA and Asia
US – Mexico Cross-border automotive logistic
In-country resource management, including supplier, transport, value-added services and delivery
Global forwarding using air/ocean and road/rail transport modes
Supply chain visibility and management, including RFID product tracking, exception management, planning and forecasting, and inventory management
Destination management, including port and demurrage management, customs brokerage, deconsolidation and pre-retailing services, port-to-distribution center transport, and direct-store delivery.
Automotive parts packaging solutions to protect high value parts by our group company, NEX Transport.
Healthcare
Healthcare manufacturers trust Nippon Express because they require the utmost logistics performance for rapid time-to-market demands without compromising accuracy. Medical devices, biotech products, and pharmaceutical products have unique storage and handling needs, and Nippon Express has decades of expertise in worldwide healthcare logistics and the strategic network assets globally to store and move healthcare goods and supplies in the most efficient manner.
The profitability of healthcare companies depends on efficient operations and Nippon Express helps clients realize increased profitability through lower overhead costs and access to new and emerging markets. Learn how Nippon Express can create competitive advantages for healthcare firms through services for:
Pharmaceutical
Medical Devices
Cold Chain Solutions
Biotech
New GDP Facility Chicago Video
Semiconductor
Nippon Express understands the challenges of the semiconductor supply chain. We support some of the most complex supply chains for major semiconductor companies, offering customized service with standard operation procedures to fit your needs.
Take advantage of our 744 locations

 near you, your manufacturing plant or your customer to support your supply chain.
Nippon Express expertise in the Semiconductor Industry
Semiconductor Manufacturing Equipment and Devices:
Amongst industry leader in Capital Equipment handling volumes.
End to end integrated supply chain management.
Cater to time, temperature, shock, tilt sensitivity requirement.
Optimal solution integrating all modes of transportation and dynamic routing.
Logistics Management for FAB, Assembly, and Test Products:
Innovative protective solution thru real-time GPS tracking, specialized pallets, data loggers, and shock absorbing material handling equipment.
Comprehensive logistics solutions and value-added services designed and tailored to customer's unique requirements.
Spare Parts and Wafer Shipping:
24/7 customer support via global control tower.
Inventory management (VMI), JIT delivery aligned to production schedule, picking/packing/kitting service.
Quality management and KPI reporting.
Finished Products:
Final mile distribution.
In-transit visibility and various customer tailored tracking reports.
Contact Us From here