Nippon Express' portfolio of integrated logistics solutions enables businesses to coordinate work a single source, to ensure that products arrive at the right place, at the right time, in the right condition, anywhere in the world, 24x7x365, and in conformance with the client's unique handling requirements.
LTL Service
Nippon Express offers competitive rates, service coverage, and on-time delivery for regional and national Less than Truckload (LTL) freight, with services delivered by more than 300 local terminals. Expedited and Time Definite service is available, including scheduled airport-to-airport service.
Truckload Service
Nippon Express truckload service includes dry-van, temperature-controlled, and flat-bed service throughout North America. The firm's capacity across partners includes more than 50,000 tractors and 150,000 trailers. Available additional services include team drivers, drop trailers, lift gates, and inside delivery, among others.
Intermodal Service
Nippon Express' intermodal service combines the door-to-door service of trucking with the cost effectiveness of rail transportation. Freight moves in 53' domestic containers via COFC (container on flat car) with satellite tracking and temperature-controlled service available. International containers are also available.
SmartWay Transportation Partner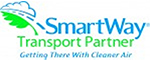 Contact Us:
For more information, contact truck@nipponexpress.com
Related Resources
TMS-DTS